They're the oldest type of shoe, prevalent across multiple cultures around the world. Known for their versatility, breathability, ease of wear (and of course, powerful discplinary abilities), this iconic product will make your toes feel like they're on holiday!
Today we discuss the footwear of freedom: the Flip-flop.
Date of Invention:

Flip-flops are one of the oldest shoes in the world, having been used by Ancient Egyptians, Greeks and Romans since at least 4000 BC. Whilst Australians have culturally embraced this super slipper as our favourite shoe, it definitely has international esteem, and originated in other cultures.
Flip-flops were popularized in the U.S. after the Second World War. The template for the modern design originated from the Japanese shoe, the "Zori", which was actually considered a formal shoe, in stark contrast to the casual reputation it's earned since. This is also when they first earned the name "flip-flop", replicating the sound they make when hitting the floor.
Brazil was the next country to adopt and popularize the flip-flop. Created in 1952, Havaianas (meaning the feminine translation of "Hawaiians" in Portuguese) added the rice grain imprint design to their unique sandals, which were popular amongst much of the poorer population: Havaianas are even listed on an official Government recognized list as a fundamental product for inflation control (alongside rice and beans)!
Down under, Flip-Flops are an Australian symbol which we don't just associate with summertime, BBQs, and beach trips, but everyday life. They are a wardrobe essential which are near and dear to the hearts of many thanks to their practicality and casual style. Do note though: down under, we call Flip-Flops "thongs", however that name has been repurposed by Americans for another article of clothing which is generally unsuitable for the feet.
To this day, the heavy association between flip-flops and beach culture is acknowledged, however they have also snuck their way into some dressier wardrobes over the years, making a slight turn back to its formal origins.
The oldest pair of flip-flops were made from papyrus and palm leaves, dating back 1500 years ago – even in history, life's always better with flip-flops!
Holiday:
National Flip-Flop day takes place on the third Friday of June each year, so this year (2021) it will fall on the 18th of June. The Flip Flop holiday encourages everyone to show off their favourite sandals: while this holiday is also meant to signal the start of summer, many choose to show off their summer shoes year round, so feel free to join in the festivities for Australia's favourite footwear.
You can follow this holiday online at #NationalFlipFlopDay! Take a shot of you trotting in your favourite flip-flops. Purchase that new pair you've had your eye on, or gift a new pair of flip-flops to that friend who's been relying on the power of duct tape for the last few months!
Design:
Flip-flops are a flat sole sandal with a Y-shaped strap around the top. The common modern design places the strap between the big toe and second toe, however some other older variations situate the strap between the 2nd and 3rd toes.
Issues in its design mostly revolve around their lack of grip and foot support, due to them not being contoured around the curves of our feet. This can make them a danger during activities such as driving. The design of the flip-flop has also been controversial for foot health, with some sources suggesting that it may be the cause of injury.
It also forces one to bring their heel onto the floor too roughly, jarring the body and causing fatigue. Podiatrists do not recommend flip-flops for long term wear or for strenuous activities. Finally, they have a heavy association with beach culture, which may cause the user to suddenly grow dreadlocks and learn guitar. They are also not suitable as protective footwear due to being slightly more exposed than steel caps.
Otherwise, these shoes are comfortable, cheap, convenient and durable. They are today a casual, unisex footwear, originally made from materials such as wood, straw, leaves and twines. However, after the Postwar Boom they were redesigned into the bright and bold shoe we know today, heavily inspired by 50's fashion in sunny California.
Plastic type:
The modern flip-flop is made from either rubber or Polyethylene, which is ideal due to its waterproof and sand-proof qualities. However, many also include materials such as PVC. They are generally injection moulded, which you can read more about here. During fabrication, they are inspected for faults, and the rejects are given a second chance, sent to be re-ground to make another patch of Flip-flops.
Unique feature:
Flip-flops have a lot of room for fun features and unique design capabilities. For example, one inspired designed created one which has an installed bottle opener at its sole, which is an ideal footwear for an iconic summertime BBQ. Some also have embossing on shoe's sole which leave fun imprints into the sand as the person walks, either conveying the brand or a fun graphic. Some are even custom created or personalized, making it easier than ever to mark your territory at your perfect beach spot.
Some other fun features found in the flip-flop isle includes secret storage compartments, allowing you to safely keep your keys and wallet at the beach; the Dram Sandal has a canteen installed into the heel for quick refresher during your long walks.
There are some sandals which have purposefully positioned nubs or electronic massage pads, which massage your feet to counteract the possible discomfort of the flip-flops design. Others attempt to remove the strap altogether, instead using a stick and peel technology to avoid both tan lines and foot cramping. There are also companies dedicated to improving the design of this popular shoe, such as Archies Footwear and many Orthotic Sandal stores.
Finally, some flip-flops keep their additional features stylish and simple, such as bedazzling, bejeweling and beading, as well as inventive shapes and colours!
Life Cycle: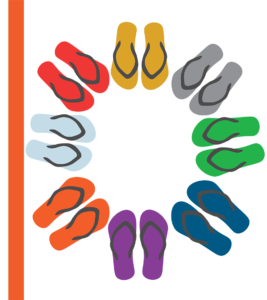 Flip flops pose a pretty significant environmental problem. Whilst they are a popular part of beach culture, they also take part in polluting the beaches.
Due to the affordability of this shoe, an estimated over three billion people worldwide rely on flip-flops for footwear. The material of the shoe is durable and weatherable, increasing its appeal. However, this combination means a combined result of mass manufacturing, and minimal waste management options. And so whilst many do attempt to extend its life cycle with duct tape, eventually the wear and tear wins the battle, and they are inevitably discarded.
They often end up washed up on beaches, posing a health hazard to humans and marine life alike. Many are seen in the Great Pacific Garbage Patch in the middle of the Pacific Ocean. A 2019 study estimated a total of approximately 977,000 flip flops polluting Cocos Islands, a series of around 26 Islands 1300 miles off the coast of Australia's northwest. They also fill up landfills, leaching chemicals, and sadly resisting decomposition like the stubborn shoes they are.
It is recommended that you try to upcycle flip-flops using creative DIY projects. Finally, purchasing recycled flip-flops are one of the best ways to combat plastic pollution, or purchasing those made from recycled cork and hemp or even upcycled industrial hoses. You can learn about brands and options here.
Future Improvements:
Work is currently underway to make flip-flops biodegradable using an algae based polymer-like substance, which should break down after as quickly as 18 weeks, granted it is in the correct conditions.
Researchers are replacing the main ingredient in polymers with an algae paste which still meets commercial specifications, and are appetizing to biodegrading microbes. These will, in theory, happily munch away on these innovative plastics. However, it is noted that a substantial amount of petroleum is still used, with 52% of the material being the replacement algae oil.
Whilst still in development, as they attempt to upscale the manufacturing efforts, they were estimated to be available by the end of this year in a collaboration between Algenesis, and REEF footwear.
You can't get more practical than the flip-flop. Whether you're prepping for a beach trip, or heading down for a quick stroll to the corner store, they are the go-to shoe for thousands across the globe. Ultimately, whilst plastic has allowed for the mass manufacturing of this iconic product, it has also lead to their strong presence in landfills. They are often also discarded, lost or forgotten behind at the beach.
But life's better in flip-flops. Many around the world also actually rely on this footwear due to its affordability and ease of access. This is why shoe designers are eager to lead the march, proudly walking the walk into a more eco-friendly flip-flop zone.

References:
https://www.escape.com.au/destinations/australia/the-aussie-slang-terms-that-baffle-foreigners/image-gallery/5188cc6b622c0d529710db14b6f37f77
https://www.punchbowl.com/holidays/national-flip-flop-day
https://www.premiumflipflops.com/what-are-pe-polythene-flip-flops#:~:text=Both%20Strap%20and%20Sole%20of,granules%20to%20produce%20flip%2Dflops.
https://blueocean.net/flip-flop-facts-find-out/
https://www.japan-talk.com/jt/new/zori
https://www.heddels.com/2018/04/history-flip-flop/
https://didyouknowfashion.com/the-history-of-flip-flops/
https://www.havaianasaustralia.com.au/About-us/Havaianas-History
https://theconversation.com/flip-flop-the-un-australian-history-of-the-rubber-thong-150068
https://trove.nla.gov.au/newspaper/article/243756589
https://www.sciencenewsforstudents.org/article/iodegradeable-algae-plastic-flip-flops-pollution-beach-water
https://www.flojos.com/ancient-footwear-the-history-of-the-flip-flop/
https://www.smithsonianmag.com/smart-news/researchers-use-algae-make-biodegradable-flip-flops-180975645/
https://www.algenesismaterials.com/algenesis-products
https://www.designswan.com/archives/10-cool-sandals-and-flip-flops.html