Hold onto your hats, because this Iconic Plastic Product is truly breath-taking!
When it comes to wind energy, things may seem easy breezy. But there are layers in the design of the powerful wind turbine, which throws caution to the wind.
Whilst increasing in popularity over the years and despite achieving a name as a clean energy superpower, wind farms hold their own issues for the environment, particularly when it comes to sustainability and waste management.
Date of Invention:
Before the wind turbine, there was the windmill. The first windmill is believed to have been dated back to 1st Century AD, invented by a Greek engineer, Heron of Alexandria. This predecessor utilizes the same basic premise of using wind power, but generates mechanical energy instead of electricity.
The first instance of this technology being used for electrical purposes is in Scotland, Glasgow, by Professor James Blyth in 1887. He generously offered to use this to supply electricity to his entire community, but at this time, many believed that electricity was the 'devils work', or would never amount to anything, figuring it was nothing more than a candle in the wind.
The very next year, the technology was embraced by  Inventor Charles Brush from Ohio in the U.S., who created his own wind turbine to provide electricity for his entire mansion, like a fart in the wind.
Concept designs for industrial sized turbines were introduced in the late 1970s, and eventually, the first large scale wind farm was built in1981 in the USA's Pacific Northwest. The first wind farm installed in here in Australia is the Salmon Beach Wind Farm in 1987, operating for 15 years before being decommissioned in 2002.
Today, windfarms account for more than two-thirds of the world's new energy sources built in 2017.
Holiday: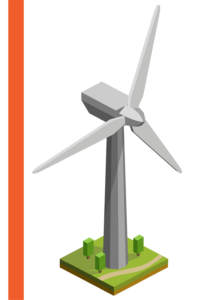 June 15th marks 'Global Wind Day', organized by the European Wind Energy Council (EWEA), but celebrated internationally to honor the power of the wind. The holiday's aim is also partly to put pressure on world leaders to support the shift to renewable energy, and phase out fossil fuel use.
Participate in this special day by getting a breath of fresh air at a local wind farm, or participating in organized events near you. Take some time to learn more about wind energy and how you and your community can help support the implementation of renewable energy efforts.
Or you can also do something crafty, like making your own wind turbine from plastic bottles! Read the instructions here! Or if you would rather celebrate in virtually, you can use the #GlobalWindDay hashtag, or watch, share and comment on this video published by the leaders of the movement, EWEA. You can also find the official site for the holiday here.
Design:
Wind turbines work like reverse household fans. A tall tower holds the rotor and blades at least 80 or 90m tall. The wind reaches around 15kms per hour, spinning the blades of the turbine, and in turn, the attached rotor. The kinetic energy travels through a generator, which stores that energy as electricity.
Turbine blades are usually produced to be as lightweight and aerodynamic as possible to improve their spinning speeds. However, they are also constantly exposed to harsh weather and the outdoor elements. This means that considerations such as durability, strength and weatherability are also pivotal to keep the wind turbine's construction intact. While regular maintenance and quality assessments are also implemented to ensure the turbine is functioning, safe and secure, the key to the turbine's structure is achieved in the use of UV stabilizers and other additives in the materials formula.
While the resulting strength of these plastic materials can mean difficulty when it comes to disposal, the consequences for wind turbines gone wrong can be astronomical, and so all measures must be taken to achieve quality blades.
An issue in the design, however, is the ensuing noise which emits from windfarms, which are reportedly louder and more annoying than transportation noise and similar industrial noises. These have been recorded to potentially cause an increase in stress disorders, insomnia and migraines in residents living in surrounding neighborhoods. Additionally, poorly positioned wind farms can be deadly for birds on migration routes, with up to 1300 eagles, falcons, hawks and other birds killed each year. Turbines in cold climates are also susceptible to developing icicle formations which can fall and endanger those nearby.
Plastic type:
Wind may not sound like a particularly threatening opponent, but in reality, it can produce a fair amount of damage! For this reason, the body of the wind turbine are generally made from steel, fiberglass, plastic, and a mixture of metals including aluminum.
However, the wind turbines blades are made from suitable materials fit for their aerodynamic, spinning purposes. They are constructed from plastics formulated to handle the damage of hurricane level winds, made from a large variety of thermoplastics, such as Polyethylene (PE), Polypropylene (PP), Acrylonitrile Butadiene Styrene (ABS), and Polyvinyl Chloride (PVC). However, many are also made out of fiberglass plastics.
Unique feature:
For a while, the largest windmills were on the island of Oahu, Hawaii, and stand up to 200 meters tall. However as of 2021, Vestas Wind Systems revealed their most recent plans for an offshore wind turbine platform, including what they've named the V236-15.0, which will be standing at over 855 feet tall.
This turbine can provide a capacity of up to 15 megawatts, and will be the worlds largest, with production being scheduled for 2024. However, in the meantime, we can keep an eye out for their prototype, to be installed in 2022. The Vestas Chief Technology Officer, Anders Nielson, comments on their pursuit to raise the standards for innovation and industrialization in the wind energy industry here.
Life Cycle:
Wind turbines don't last forever. Its function relies on its ability to survive in potentially harsh, exposed conditions. While they have an estimated 25 year old life cycle, they eventually require replacement blades and servicing, if they aren't decommissioned altogether.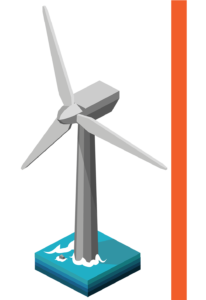 Most of the wind turbine can be recycled or disposed of, apart from their giant blades. Going from windfarms to turbine graveyards, plastic blades often end up piling into landfills, such as in Casper, Wyoming, the home of up to 870 abandoned blades which shocked the world with its sinister imagery. Whilst they are built to withstand hurricane-force winds, this also means they are incredibly difficult to crush, recycle or repurpose. This poses both economic and environmental challenges for designers and manufactures, alongside environmentalists and renewable energy specialists.
Efforts to improve the recyclability of the blades is already underway according to a 2020 article from Energypost. New thermoplastic resins are being used to build the blades to be stronger, lighter, longer, and more easily repaired, expanding the overall product life cycle. It also improves the turbines resistance to seawater. However, this begs the consequential question, how difficult will these blades be to dispose of after they do eventually reach their end of service.
There are also company's working to recycle the existing fiberglass materials currently polluting landfills. Composites are being transformed into injectable plastic pellets which can be useful in construction applications, and has received a significant amount of interest from the industry. Alternatively, fiberglass can go through a process called "pyrolysis" which breaks the material into industry glues, paints and concretes. These efforts will be pivotal to the future of wind farming and renewable energy efforts.
Future Improvements:
An interesting potential development is marine energy, which works within water environments, and even while submerged. The NREL are attempting the develop what they call the "blue economy", using wave, tide, and current energies the same way we use wind and breeze energy. Offshore wind turbines are already in operation, but this adaptation takes us under the sea, rather than above it. While there are unique challenges present, such as the high erosion rates of salt water, this field is going swimmingly with brimming potential. You can follow this project at the #supoortoffshorewind tag, or on their website here.
Additionally, whilst still mostly downplayed by major organizations and governments, it has been noted in research that living close to industrial wind farms can have consequential health effects for nearby communities. This includes sleep deprivation, headaches, and other stress-disorder symptoms which can greatly affect the quality of life of citizens. To counter this, designers are taking inspiration from nature itself: by using the secrets of the most quiet flier, the owl. According to researchers, it is a combination of the bone structure of the wings with velvety material and ragged fringe of the feathers which allow the owl to fly with such impressive silence, a trait which the wind turbines could definitely learn from.
It's hard to be silent when you have 100ft long blades whooshing around at anywhere between 10 and 20 revolutions a minute, but engineers and designers are definitely inspired to try!
References:
https://www.roechling.com/fileadmin/downloads/Roechling_Industrial/Brochures/EN/Windpower-EN.pdf
https://energypost.eu/recyclable-wind-turbine-blades-thermoplastic-next-generation/
https://www.bloomberg.com/news/features/2020-02-05/wind-turbine-blades-can-t-be-recycled-so-they-re-piling-up-in-landfills
https://www.thirdplanetwind.com/energy/history.aspx#:~:text=The%20first%20electricity%2Dgenerating%20wind,kilowatts%20(kW)%20of%20power.
https://energypost.eu/recyclable-wind-turbine-blades-thermoplastic-next-generation/
https://www.plasticsmakeitpossible.com/whats-new-cool/technology-science/plastics-help-deliver-renewable-energy/
http://www.holidayinsights.com/moreholidays/June/global-wind-day.htm
https://www.usgs.gov/faqs/what-materials-are-used-make-wind-turbines?qt-news_science_products=0#qt-news_science_products
https://www.nationaldayarchives.com/day/global-wind-day/
https://www.clean-energy-ideas.com/wind/wind-turbines/how-long-are-wind-turbine-blades/
https://www.bbc.com/news/business-51325101
https://www.maritime-executive.com/article/new-world-s-largest-wind-turbine-as-offshore-wind-scale-up-continues#:~:text=Vestas%20Wind%20Systems%20unveiled%20its,a%20capacity%20of%2015%20megawatts.
https://www.smithsonianmag.com/science-nature/silence-wind-turbines-engineers-are-studying-owl-wings-180974659/
https://www.dailymail.co.uk/news/article-8294057/Hundreds-non-recyclable-fiberglass-wind-turbine-blades-pictured-piling-landfills.html
https://blog.ucsusa.org/james-gignac/wind-turbine-blades-recycling
https://www.abc.net.au/science/articles/2015/07/30/4282474.htm
https://www.synergy.net.au/Our-energy/Blog/2018/07/Its-1987-and-wind-farms-are-totally-rad
https://www.youtube.com/watch?v=d_FEaFgJyfA\