"Coming together is a beginning. Staying together is progress. And working together is success."
You have likely heard this quote before, attributed to both Henry Ford (1863-1947) and Edward Everett Hale (1822-1909). It's about success not just in numbers, but in cooperative collaborations which encourages a flow of ideas, dialogue and productivity.
Teamwork is essential to success. For us here at Rotadyne, collaboration is an essential part of our work both in and out of the factory. We work to form collaborations across an amazing assortment of industries who have an incredible range of expertise. What we all have in common is that we are working towards the same mission to develop innovative, market leading, must-have products.
In each project, we are presented with different corresponding requirements, considerations and concerns within the design and the manufacturing of the product. Our extensive experience and in-depth knowledge accumulated over many years has molded Rotadyne into the leaders of the rotational moulding scene.
That's why when ATS contacted us in 2016 with an innovative idea to produce live fire training support equipment, with improved functionality and safety in mind, we knew we were well-armed to join forces to create what is now one of the most iconic products here at Rotadyne.
"When you aim for perfection, you discover it's a moving target." – ATS.
Australian Target Systems, or ATS, is Australia's most experienced live fire target systems business, and has been a valued client of Rotadyne. They are leaders in combat and defense and policing industries, offering a myriad of training systems, equipment and products as well as software and environmental management services.
ATS aims to replicate the battlefield realism for high end training scenarios, which prepares trainees for a high pressure, modern day operational situations in a safe and fit for purpose training environments. They provide software and hardware systems, training support equipment, and mentoring services for combat shooting.
ATS's expertise in technical range design, integration of systems to deliver fir for purpose training environments, and a nation-wide service and repair capability provides Australia with a Sovereign Industry Capability – Australians delivering capability for Australians. Coupled with our experience in delivering these capabilities to international customers on major training range products, ATS continues to offer military, police and other government organizations innovative live fire training systems solutions which can evolve and their capabilities to meet the demands of an increasingly lethal and complex threat environment.
Their goal is a relentless pursuit of excellence; something which Rotadyne certainly connects with. We thrive on innovation and excellence. The contemporary rotational moulding industry in general is always striving to stay relevant and fresh. Usually it is through experimenting with and introducing new grades of material, each with added properties and modern feature combinations. Design, in its nature, seeks to evolve, in order to develop purposeful and practical products.
True to their values, ATS is continuously looking for ways to evolve and improve their products to meet be suitable for the user as well as purposeful, which is why they reached out to us in 2016.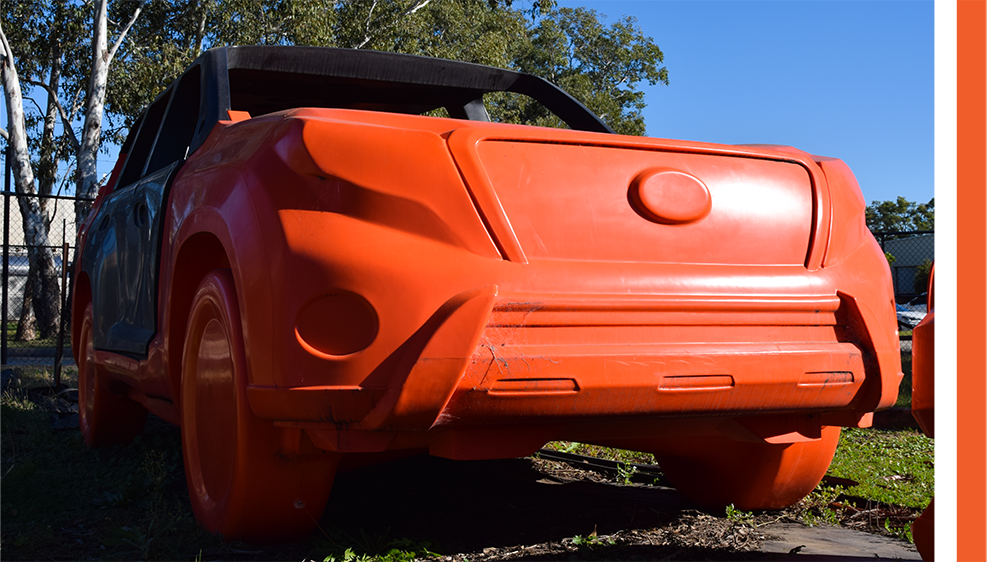 "None of us, is as smart as all of us." – Ken Blanchard.
ATS proposed to us their idea: a series of modular, non-ballistic training equipment, made entirely out of lightweight yet durable plastic. They began their focus on improving their existing product, the target cars, aiming to make the switch from steel to plastic.
Chief Executive Officer Kane Mangin, Chief Operating Officer Gavin Gray, and Research and Development Radomir Acanski, together with Rotadyne's design and engineering team, were able to identify features which need modifying in order to bring their products and service into a new era of target training.
From there, we encountered the same challenge which comes with all of our projects: that with every solution, there comes a new set of problems. This is where collaboration between experts and industry leaders is essential, and what ultimately secures success in making industry-changing products.
"[In rotational moulding] We acknowledge that Rotadyne are the experts. We have the novel ideas. But Igor in particular has been very useful…" – Kane Mangin, 2021.
Igor Da Silva has been Rotadyne's Product Development Manager since 2017, joining the Rotadyne team in 2014 and started working with ATS in 2016. Two years into the project, Igor became the primary contact as they introduced new products such as their modular wall system.
These project indisputably represent the benefit of a mutually beneficial partnership, with a lot of collaborative efforts in the concept, production and design. This is an excellent example in demonstrating the capacity of Australian manufacturing industry and the powerful results that can be achieved through local Australian companies and manufacturers collaborating. The results are more than just quality products, but rather they are transformative products which address issues beyond the product itself by challenging industry level problems.
But why did ATS turn to plastic? What exactly is it that sets apart ATS and their equipment from other products existing within the international market?
And perhaps most importantly, what do these products truly mean for the narrative and standards currently surrounding defense and combat training?
How did this collaboration change and challenge the ideas which have previously dominated the field of defense training?
In this multi-part series, we will explore the concept, design and production of the little known but highly impressive impact this collaborative project has had. Starting with an overview on the two main products, we will be looking at ATS' ballistic vehicles and their modular wall system. Then, we will provide industry insights into providing the right capabilities to enable realistic combat training safely to enable appropriate physical and cognitive conditioning of those Defense and Police personnel who have to deal with the uncertainty and danger in their work. Finally, we wrap up this series with a look into emerging projects where collaboration between Rotadyne and ATS will continue to support transformation in training.
Throughout this series, we will be highlighting one major fact: changing the world for the better, starts with design.